~ Tucson 2010 Specimens For Sale ~
So, you've seen what we've been up to during the Tucson show, but what kind of finds have we made during our travels? Well here is just a sampling of some of the exciting specimens we've picked up. Of course there is a lot more to come too... Enjoy!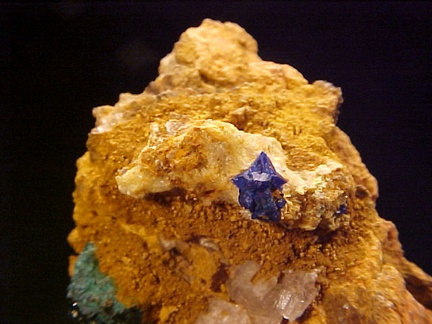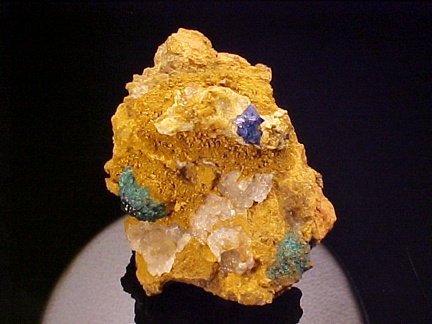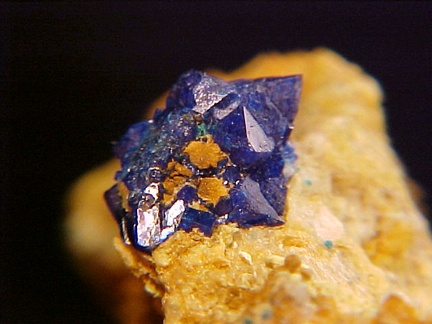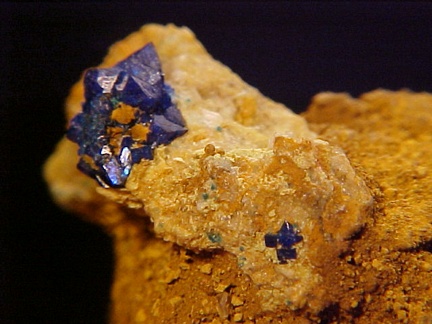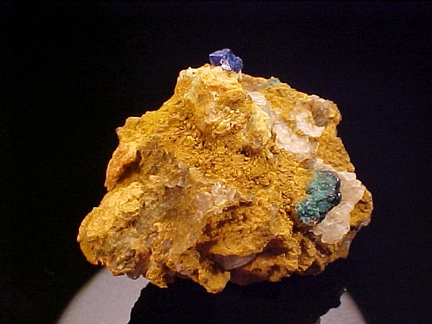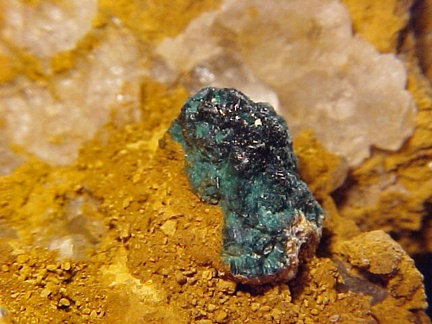 Cumengeite with Paratacamite and Selenite
Amelia Mine, Santa Rosalía (El Boleo), Boleo District, Mun. de Mulegé, Baja California Sur, Mexico
7.5cm x 5.6cm x 4.1cm
A very rare example of cumengeite on matrix. Usually, matrix specimens of boleite and cumengeite have been stabilized, repaired, or outright faked - with actual, authentic matrix specimens being truly rare. This specimen was acquired directly through Jack Crawford who has been the only one working the district for years now. Even though we were confident in its legitimacy, we subjected to rigorous inspection and testing just to be sure. This specimen is absolutely natural and unstabilized in any way. This rare beauty consists hosts a complex grouping of intergrown cumengeite crystals measuring just over 1cm punctuated by a large sixling twin, aesthetically and prominently perched on a rigid, very stable matrix. The matrix also hosts several gemmy colorless selenite crystals throughout and it is likely the selenite that is responsible for the specimen's rigid stability. In addition to the selenite, there are nodules of green paratacamite. While the color is a nice compliment to the bright blue cumengeite, it is also interesting to note that while paratacamite is usually seen as massive material from this locality this specimen actually hosts crystalline paratacamite. $1800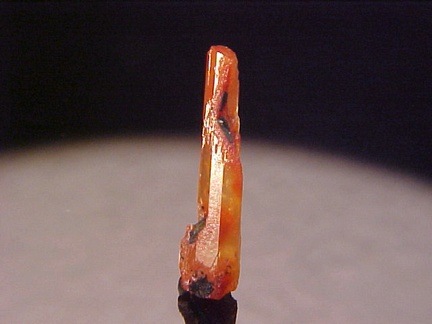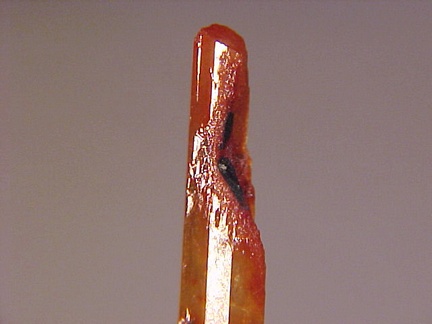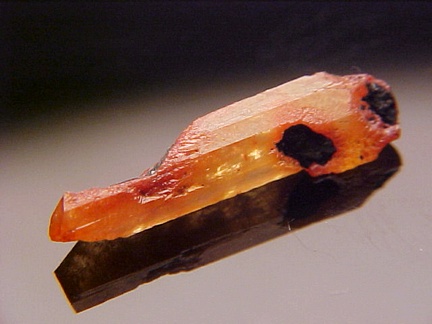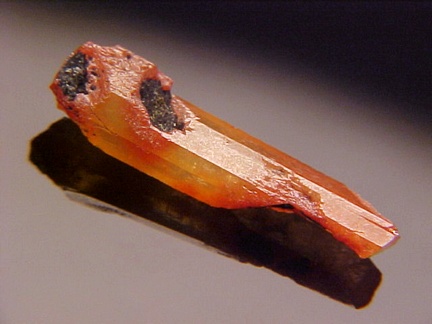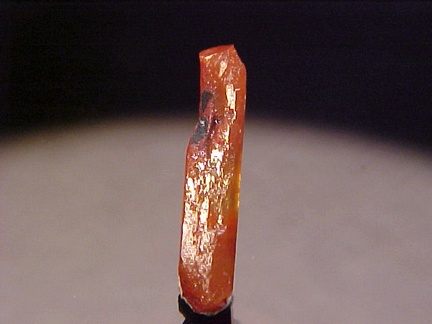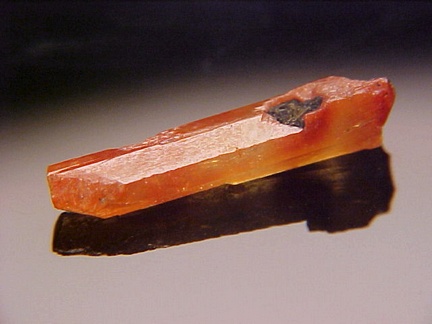 Chalcotrichite included Cerussite
DeWet Shaft, Tsumeb, Namibia
2cm x .5cm x .4cm
A rare and sought after example of chalcotrichite included cerussite from Tsumeb. This specimen consists of a single, undamaged prismatic crystal of cerussite that is richly included with lively red-orange chalcotrichite. $500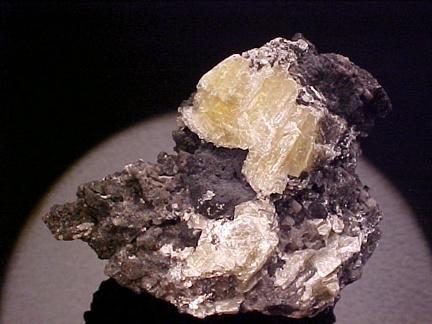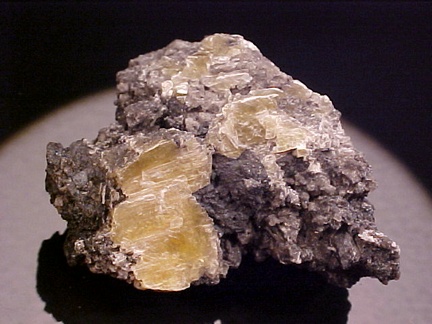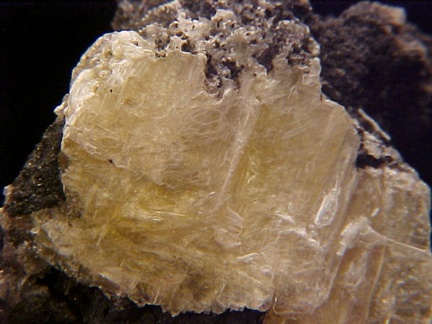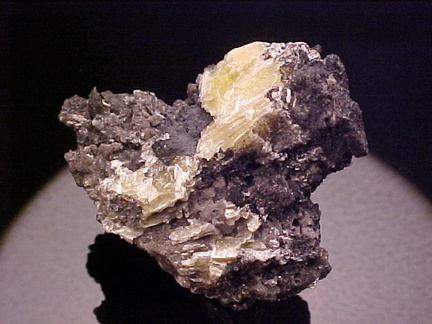 Leiteite
Tsumeb, Namibia
5cm x 4.6cm x 2.5cm
This rare species from Tsumeb is most typically encountered as small, paper-thin cleavages. Thick, sizeable crystals are rather scarce with matrix specimens being very rare indeed. This specimen hosts a very rich showing of leiteite throughout with the largest crystals being quite thick and translucent. $1400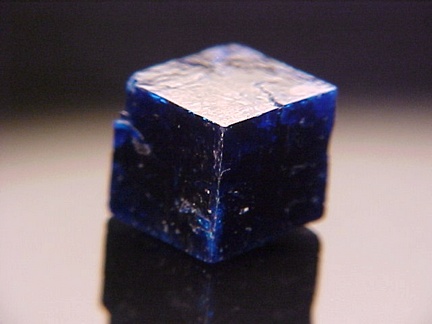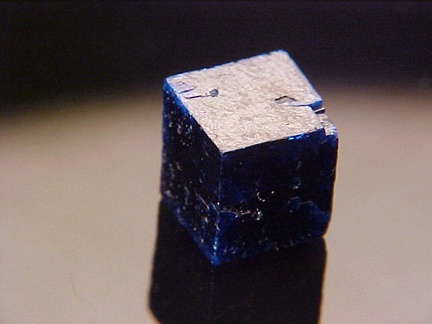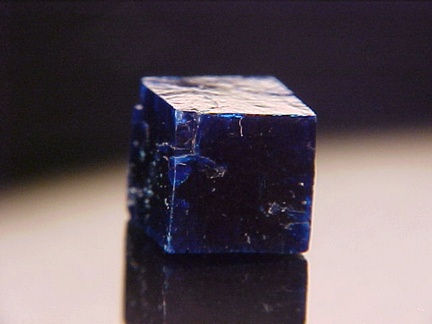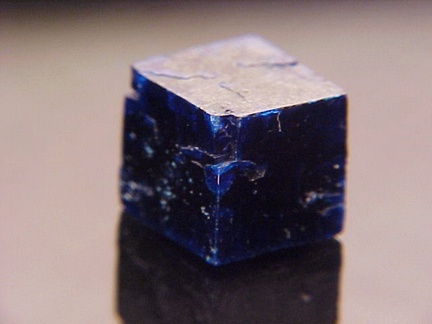 Boleite
Amelia Mine, Santa Rosalía (El Boleo), Boleo District, Mun. de Mulegé, Baja California Sur, Mexico
.82cm x .8cm x .79cm
A large and impressive example of this esteemed species. This specimen consists of a sharp, lustrous, undamaged cubic crystal of intense deep blue boleite. $475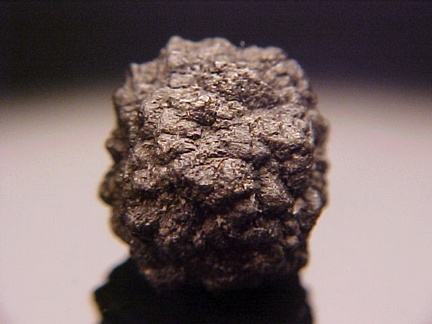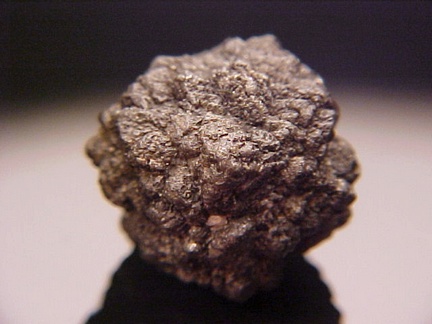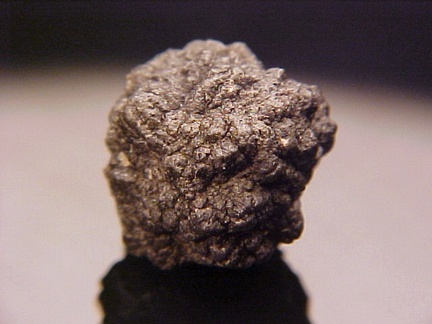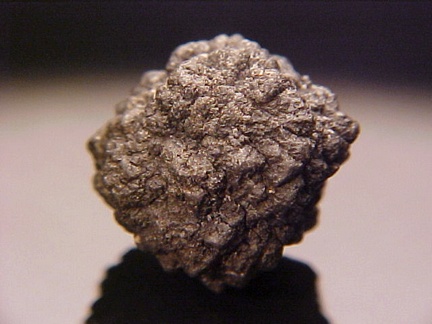 Native Arsenic
Akadani mine (Akatani mine), Fukui Prefecture, Chubu Region, Honshu Island, Japan
Ex. Ernie Schlichter Collection
1.7cm x 1.5cm x 1.3cm
A large, classic example of crystalline native arsenic. These old time arsenic specimen from Japan represent some of the best examples of the species known. This specimen is complete and well-crystallized. $200 - SOLD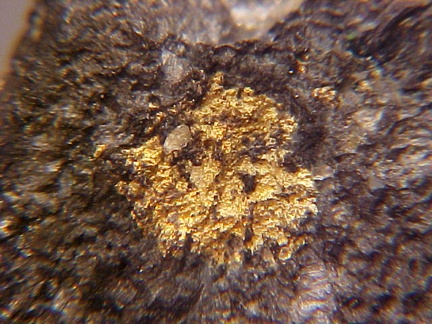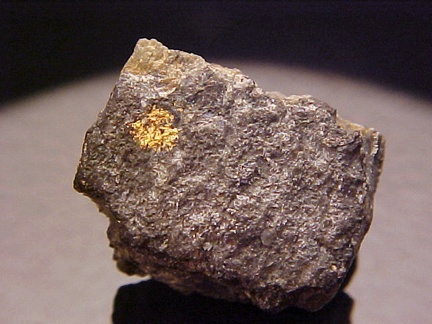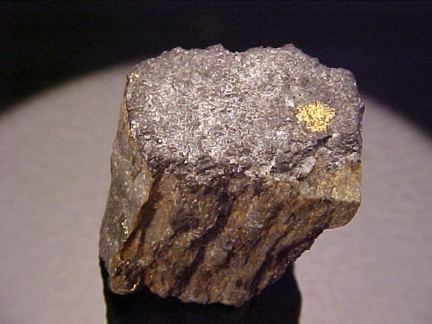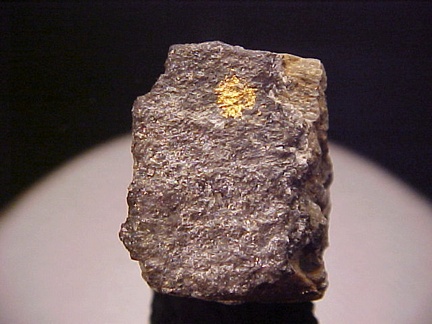 Native Gold on Chalcocite
1400 level,Cole Mine, Bisbee, Warren District, Mule Mts, Cochise Co., Arizona
Ex. Evan Jones
3.6cm x 2.6cm x 2.3cm
A very rare, old time example of native gold from Bisbee. This specimen hosts a significant showing of buttery-yellow gold on chalcocite. Upon close inspection, one can see that the gold is well integrated with the chalcocite. The matrix hosts several other veins of chalcocite and on the reverse one can see some native gold in intimate association in these veins. The contrast between the dark chalcocite and brilliant gold is quite striking in person. Rare material. This specimen was acquired in trade from noted Arizona collector Evan Jones. $500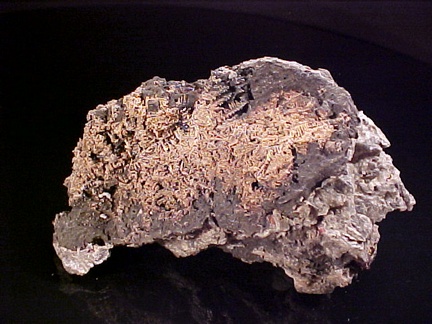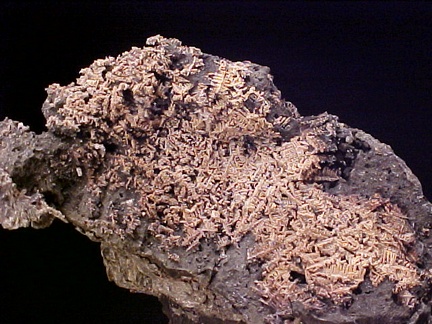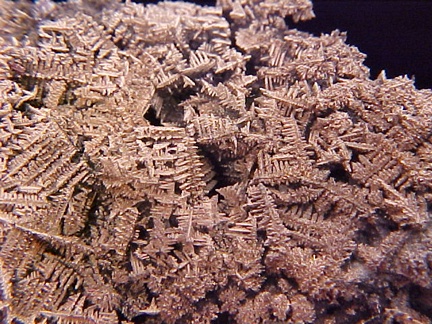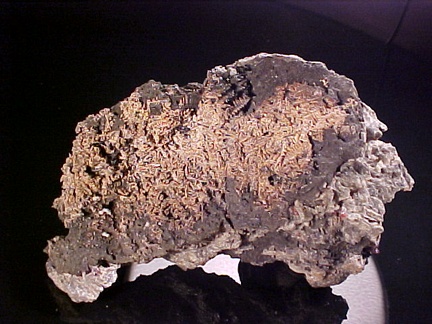 Native Silver with Native Arsenic and Proustite
Vater Abraham Mine, Lauta, Marienberg District, Erzgebirge, Saxony, Germany
Ex. J. Hoppner Collection No. 13014
12.1cm x 7.6cm x 4.6cm
A large, rich, and aesthetic old time example of finely crystallized native silver from Germany. This specimen hosts a very rich showing of fine, dendritic crystals of native silver in association with darkly colored native arsenic and accented by a few complex proustite crystals scattered about the specimen. Both sides of the specimen show off the broad display of undamaged silver crystals and, in some areas - despite the fact that the network of silver crystals is quite thick, one can actually see light from the other side. While these specimens of dendritic silver may be superficially similiar to those from Pohla, they are actually far less common. This is a particularly fine example of an old time Marienberg silver. This specimen retains an old German label from the Hoppner collection and has a corresponding affixed catalogue number as well. SOLD ON EBAY!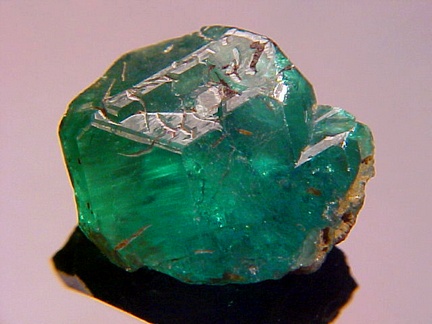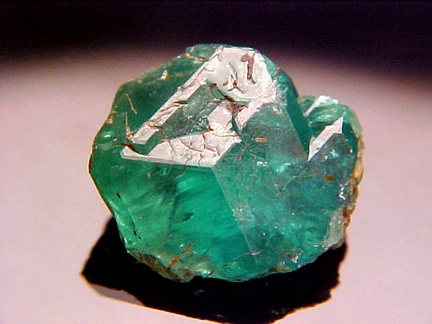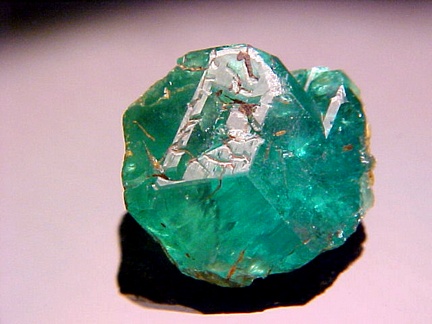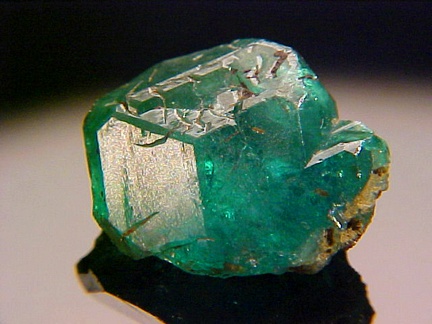 Chrome Tourmaline
Merelani Hills, Lelatema Mts, Arusha Region, Tanzania
1.9cm x 1.64 x 1.25
An absolutely incredible example of chrome tourmaline from Tanzania. This specimen has some of the most incredible color I have EVER seen in a tourmaline specimen! I would say that the crystal has the same "wow-factor" as the finest Paraiba tourmaline. The color is totally unique and beyond anything I have ever seen in any other chrome tourmaline. The habit is also somewhat unusual compared to other chrome tourmaline specimens I have seen from the region. The crystal consists essentially of a complex pinacoidal tourmaline termination with an incomplete back. The crystal is gemmy and could likely yeild a substantial gem, as a significant portion of the crystal is quite clean. While the color shows up a slightly bluish green in the pictures - in person it is an absolute ELECTRIC emerald green (I would equate it to a choice Chatham emerald on steroids if you could somehow cross it with a white LED lightsource). Unbelievable in person. $900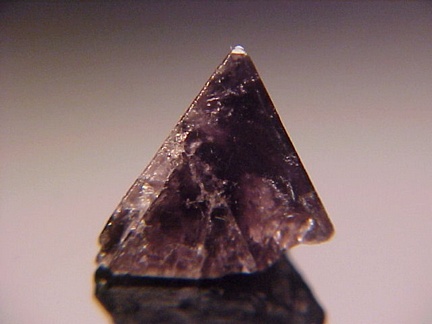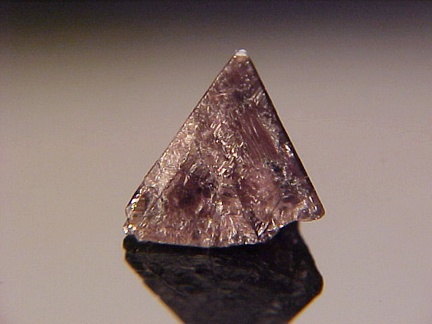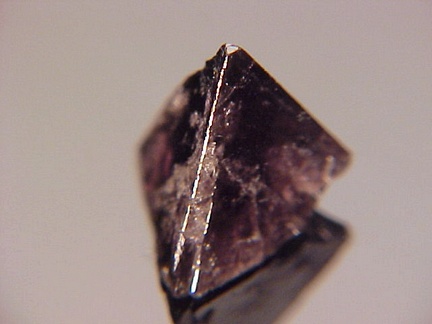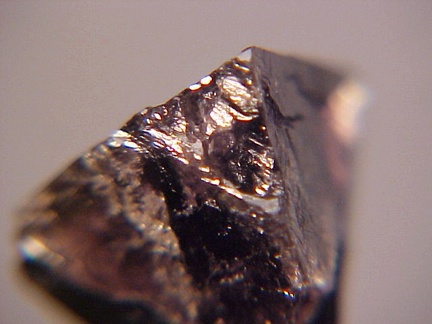 Chambersite
Barbers Hill Salt Dome (Barbers Hill), Mont Belvieu, Chambers Co., Texas
.9cm x .8cm x .8cm
A huge example of this rare borate from Texas. This specimen is quite large for the species and locality. The crystal has sharp pyramidal form, lustrous faces, and classic purple color. Two corners exhibit some curious hoppered forms, one of which is incomplete. A very impressive example of the species. $250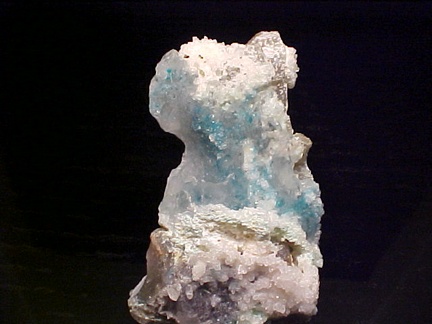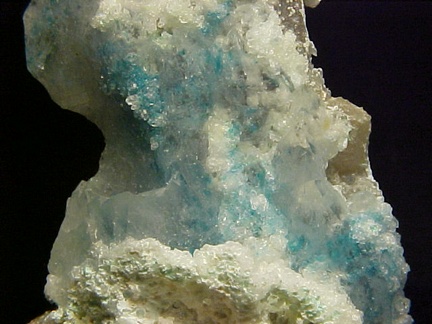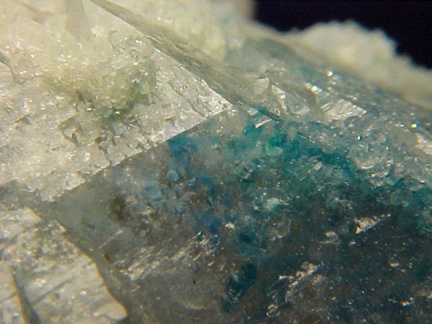 Dioptase included Quartz
Kaokveld, Namibia
7.53cm x 4.83cm x 2cm
A gorgeous plate of highly complex quartz crystals with rich inclusion of colorful dioptase crystals. There is also some blue shattuckite included as well. This specimen is in magnificent condition and way better than the pictures show. Dioptase included quartz specimens are extraordinarily scarce. $625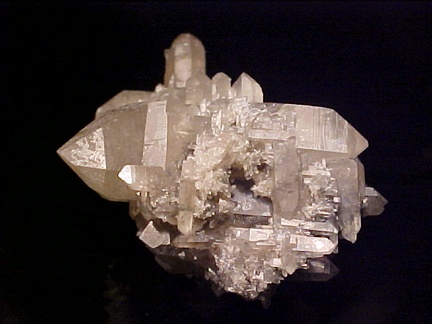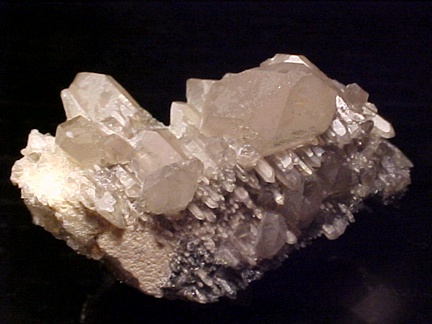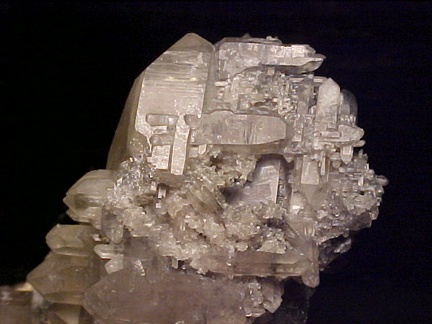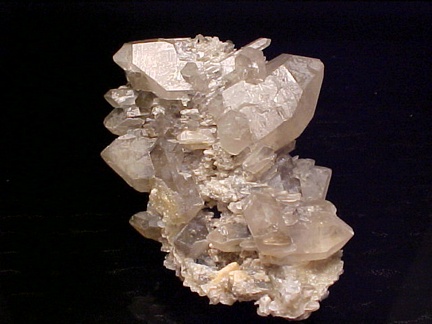 Quartz replacing Orthoclase
Erongo, Namibia
6.22cm x 3.85cm x 3.22cm
A very unique specimen indeed! This specimen came from a small, one time find years ago and had been stowed away until now. The find amounted to just a handful of specimens and this was a particularly fine example. The quartz were only present as these curious replacements of orthoclase crystals. They are not epitaxial growths but actual replacements where the crystals are sharply oriented with the planes of the orthoclase crystal. This specimen is really incredible in person - these pics hardly capture it. There is some minor damage (most, if not all the specimens had varying amounts of damage), however it does not detract from just how impressive this specimen is! $300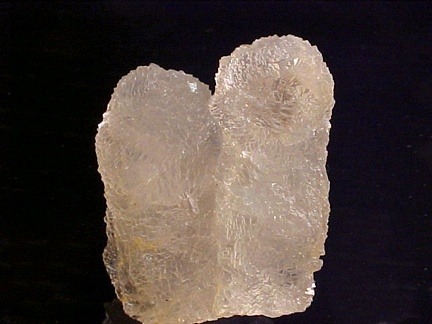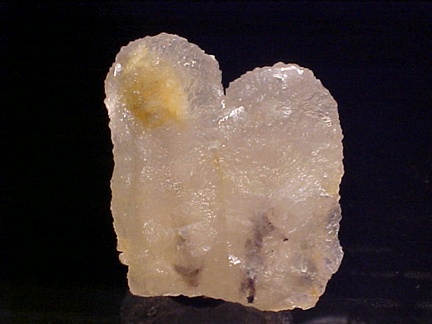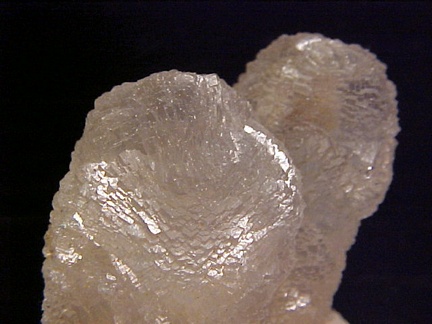 Fluorite on Stibnite
Lei Guang Mine, Yun Nam Prov., China
4.64cm x 3.85cm x 3.22cm
A unique example of complexly crystalline fluorite that has completely coated two slender crystals of stibnite. The crystals are lustrous and have a wonderful, almost glowing clarity in person. $75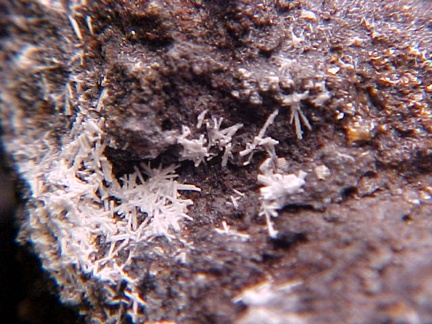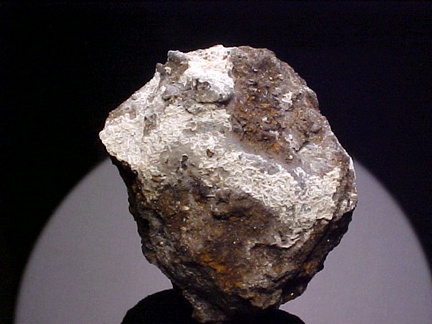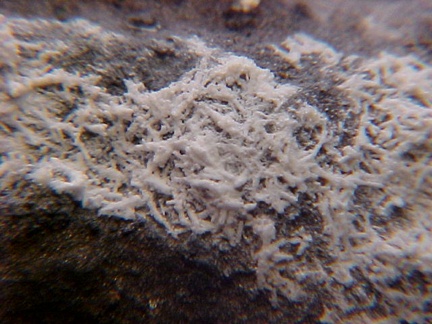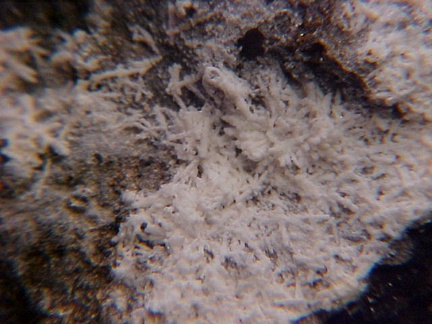 Angastonite
Penrice Quarry, Angaston, Australia
4.25cm x 3.02cm x 2.15cm
While significant new finds have so far been elusive this year, one rare thing we came across was this Angastonite. This material is from the type locality, which is also the one and only locality in the world for this species. The specimens we came across all came from the same small, grapefruit sized boulder. So while it may not be the big exciting "new find" at the show, it is certainly an interesting rarity. $110 - SOLD
---
home | specimens | auctions | gallery | ordering | about | links