2009 East Coast Gem & Mineral Show
~ Springfield, Massachusetts ~
---
August 7-9, 2009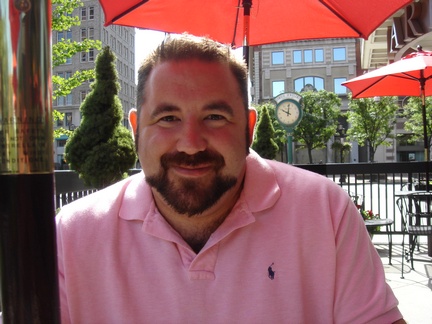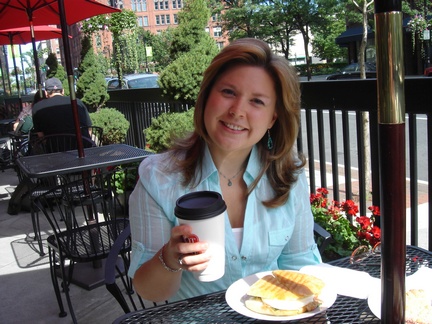 Here we are at breakfast, just before the show opens at 10am. It's important to get in a good breakfast because once I get going at a mineral show, I hate to stop for lunch! Mandy also likes to fuel up on her coffee, so that she can keep up!
| | |
| --- | --- |
| | Here's the line for the door at about 9:45am on Friday, doors opened for the public at 10am. People start lining up as early as 9:00! We were lucky to have perfect weather on Friday and Saturday this year - no waiting in the rain or humidity!! |
---
| | |
| --- | --- |
| Here is a picture of John & Debbie Whitney of "Rocks to Gems," from Chester, Maine. We first met them this year at the Tucson show. It was their first year doing the Tucson show, and before we had even gotten to their room we heard quite a lot of buzz about their selection of material from Maine! Not only was their stock fantastic, but they were two of the nicest people you could ever meet. Naturally, we were delighted to see them again here at the Springfield show! They own the Trenton & Alice Staples Quarries in Maine, and also carry many specimens from Mt. Mica. They have been hard at work rounding up exciting specimens from all over the state of Maine, and they had an impressive selection of material at the show! Below is just a sampling... | |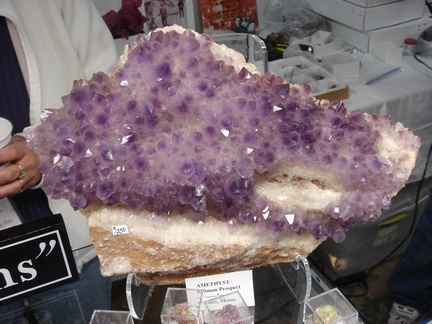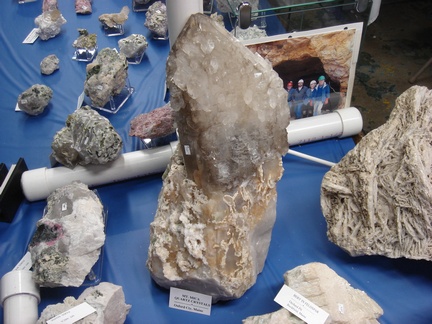 A huge plate of lively amethyst crystals from the Saltman Mine and a HUGE quartz crystal from Mt. Mica!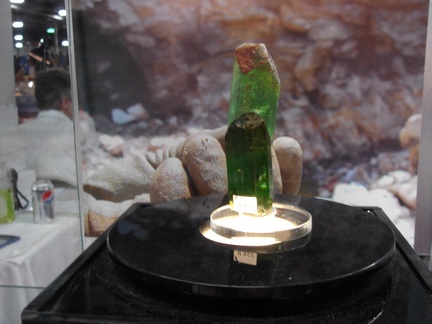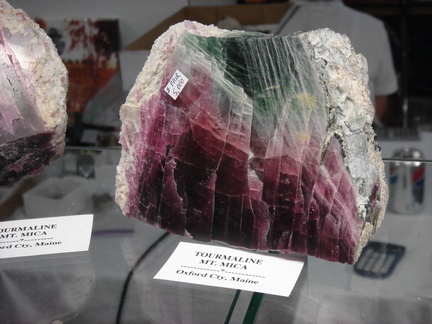 Gorgeous green Tourmaline featured in Rocks & Minerals and a Tourmaline slice from Mt. Mica with beautiful raspberry color!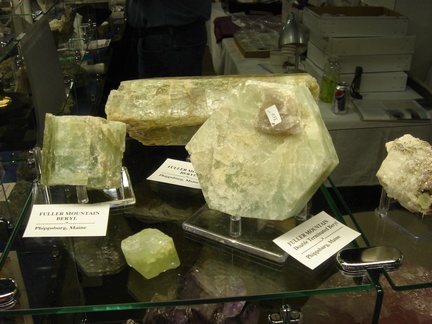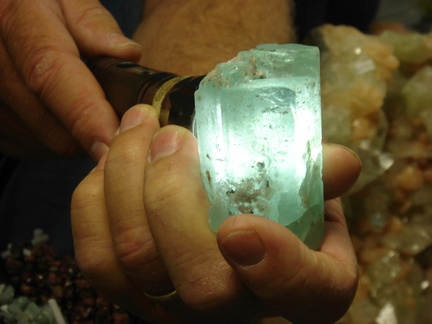 Huge yellow-green beryl crystals from Fuller Mountain, and a stunning aquamarine from near the Trenton Quarry!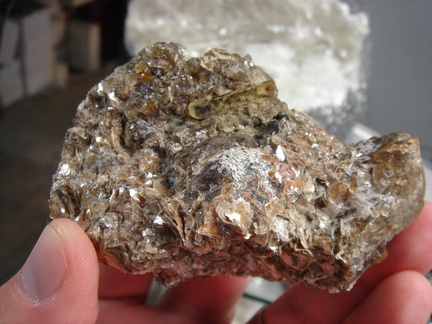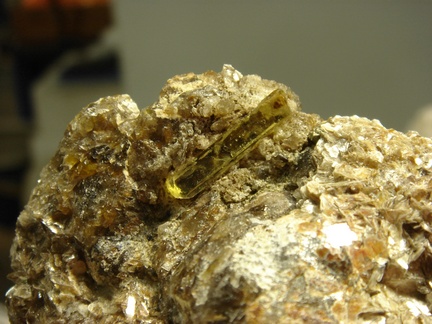 This heliodor crystal has rich golden color and GEM clarity! This specimen was simply picked up off the ground at the Trenton Quarry! I will be VERY excited to see what kind of material these guys come up with in the near future!
---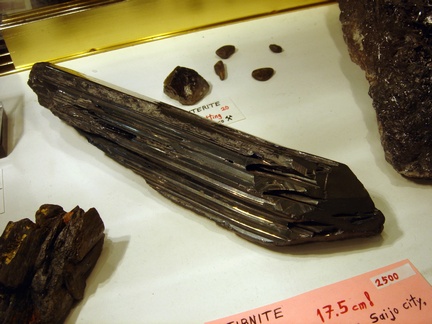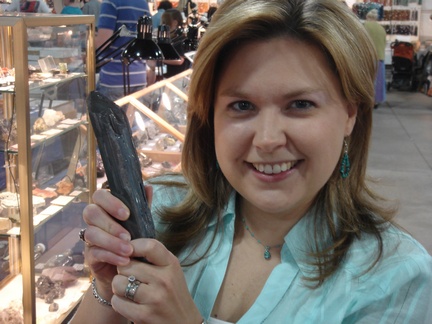 No mineral show is complete for us without stopping by to see Alfredo Petrov. Alfredo is a guy we can come to with questions, and he can always point us in the right direction. Among his numerous areas of expertise is the mineralogy of Japan. Here is Mandy posing with an incredible, old time stibnite from Japan! These classic stibnites are highly sought after, and it is very difficult to obtain fine ones such as this today!
---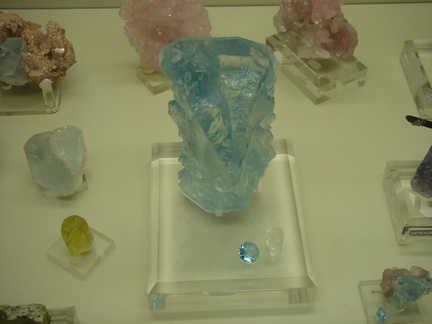 This year Jim & Gail Spann's collection was on display! I took some pictures of my favorite pieces from the collection. Enjoy the eye candy! Here is a bright yellow Anglesite from Morocco and a gorgeous blue Topaz from Brazil!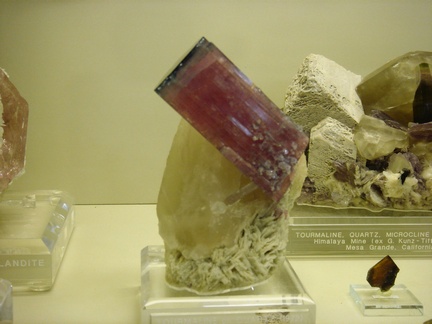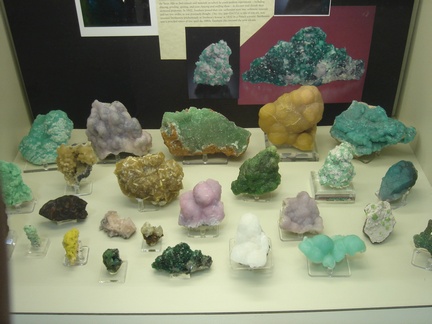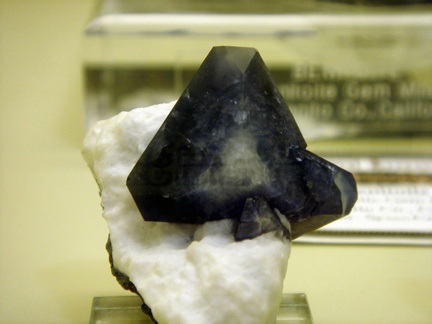 A classic blue-cap Tourmaline from California, a really handsome Smithsonite display, and a choice Benitoite from California!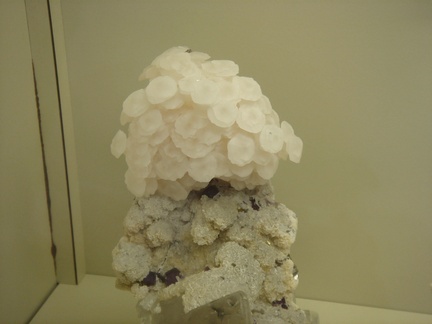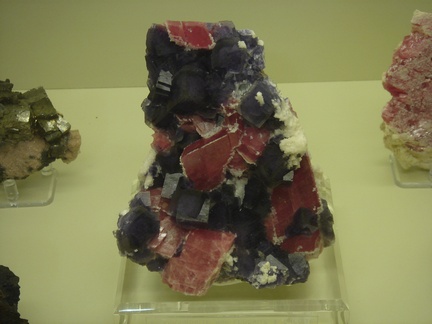 Here, on the left, is a particularly unique Calcite specimen with Quartz and Fluorite. The calcite crystals are reminiscent of an exotic soft coral or a cluster of delicate wild mushrooms. On the right is an absolutely phenomenal Rhodochrosite with purple Fluorite. Both specimens are from China, of course.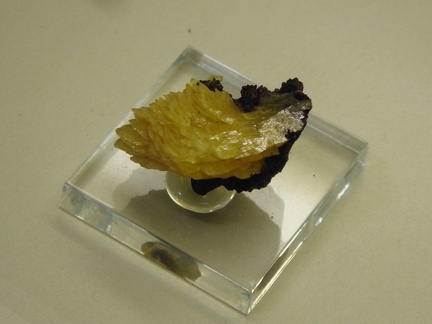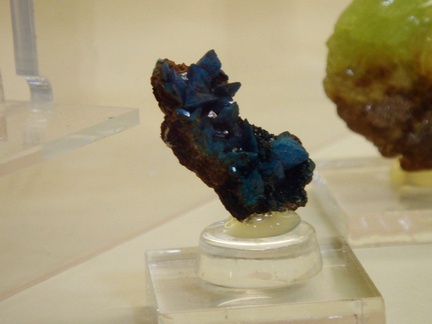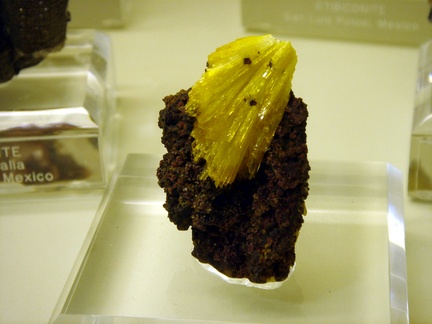 I was absolutely crazy about this Paradamite specimen from Ojuela! Paradamite specimens are nearly impossible to obtain, as they are very seldom available for sale. This one is a killer! The center specimen is immediately recognizable of course, a stunning old time liroconite from Cornwall - a very choice specimen indeed! On the right is a fine Legrandite from Ojuela!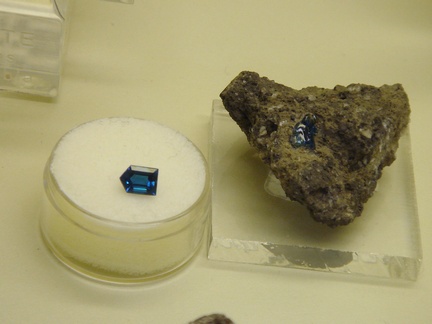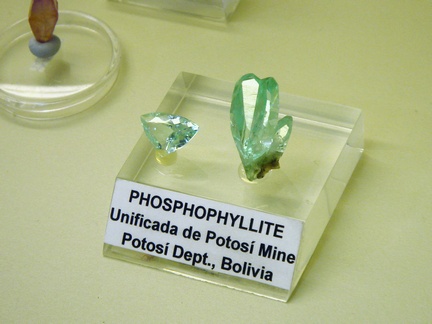 On the left is a terrific specimen/faceted pairing of the rare gem species Hauyne from Germany! Hauyne crystals seldom reach such size - both the faceted stone and the specimen are significant and choice specimens. The color was simply electric in person! On the right is a choice specimen/faceted pairing of the "holy grail" of mineral species, Phosphophyllite! Gorgeous, absolutely gorgeous!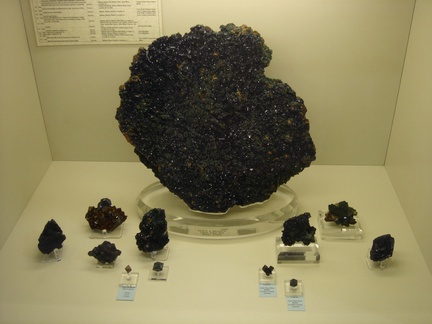 This case contained a selection of azurites from Bisbee, with one HUMUNGOUS plate of azurite crystals in the center! A very impressive display in person!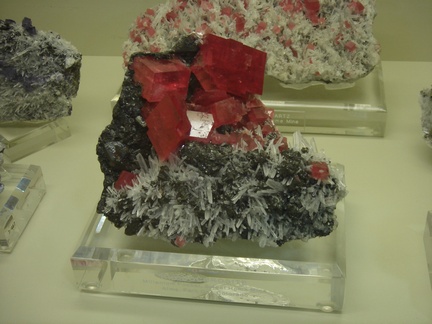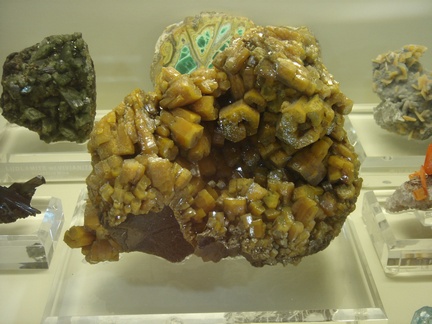 A showy rhodochrosite & quartz from Sweet Home on the left, and a superb pyromorphite from Idaho on the right!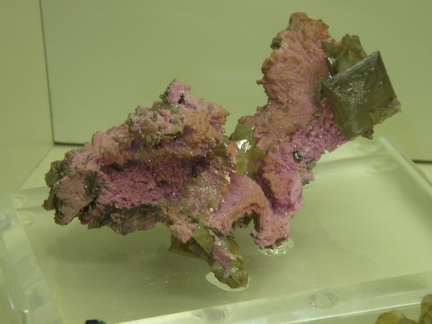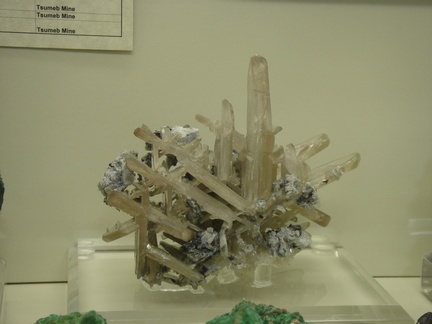 The Tsumeb case was one of our favorites! There were a number of very impressive Tsumeb combos and rarities! On the left is a stunning wulfenite on cobaltoan dolomite specimen, and on the right is a choice reticulated cerussite!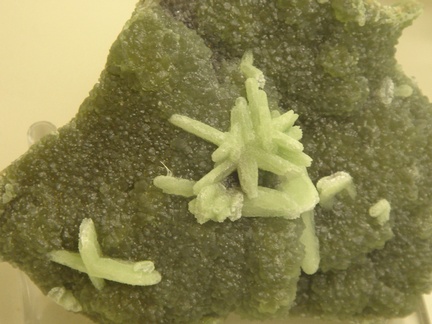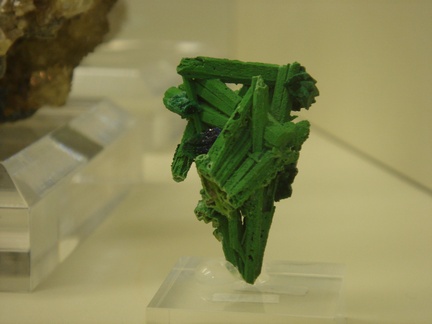 A very unusual example of cuprian smithsonite after cerussite on the left and a stunning Bayldonite pseudomorph after Mimetite on the right!
---
We struck GOLD!!!
As usual, we made a number of exciting acquisitions at this year's Springfield show!
Below is just a teaser selection of some of the specimens we acquired. We will be
posting many more in the upcoming days! To start things off, we have a collection
of gold specimens from unusual localities...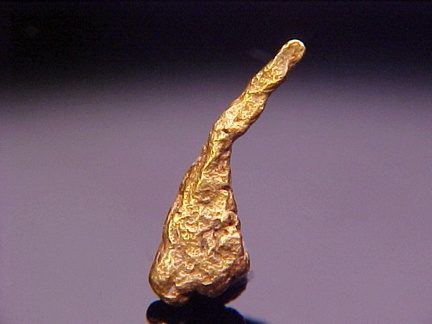 An absolutely incredible Native Gold specimen from the Wild Ammonoosuc River, Swiftwater, Grafton Co., New Hampshire! A large and significant example of native gold from this locality, this rare specimen is well documented and labelled! Originally collected by R. Kuchura, purchased by K. Patzlaff from the John Hiller Collection. Ex. J. W. Grandy Collection #1991.
Specimen measures 1.4cm x .46cm x .19cm - $450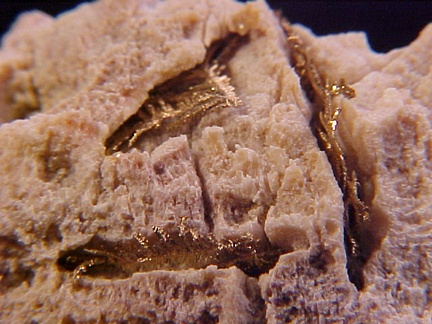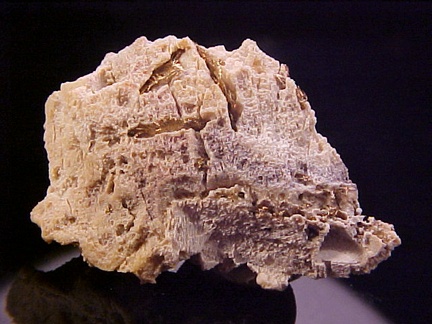 A classic example of Native Gold from Hope's Nose, Torquay, South Devon, Devon, England! This specimen hosts numerous brilliant, finely crystalized feathers of native gold! The pics hardly do it justice!
Specimen measures 4.43cm x 2.91cm x 1.15cm - $350 SOLD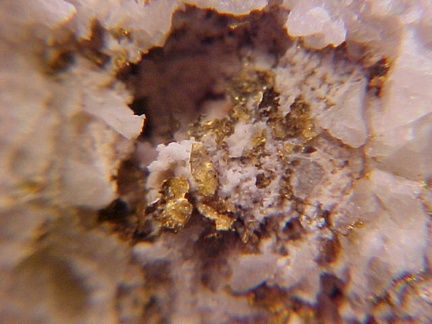 Native Gold from the Goldfield Mine, Apache Junction, Pinal Co., Arizona. From the J. W. Grandy Collection #1140.
Specimen measures 2.42cm x 1.88cm x 1.14cm - $80 SOLD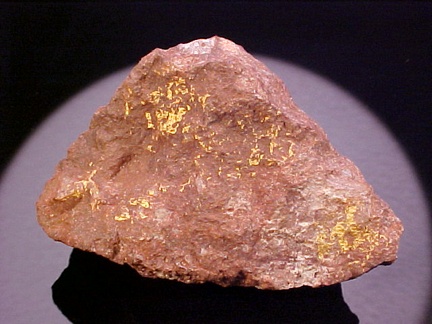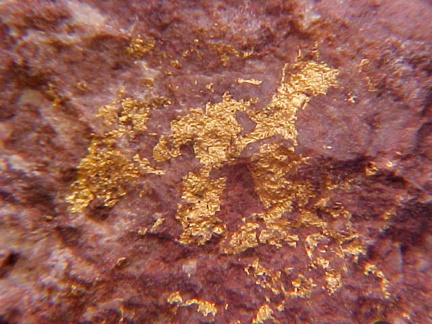 Native Gold in Rhyolite from the "Nonesuch" Mine in Arizona. Also from the J. W. Grandy Collection #1750.
Specimen measures 5.76cm x 3.86cm x 2.27cm - SOLD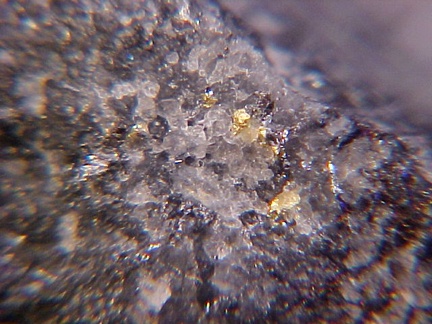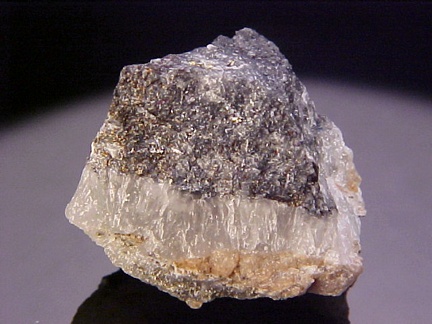 Native Gold with Stibnite from the Nakase Mine, Honshu Island, Japan (Nakase Mine) - also from the J. W. Grandy Collection #889.
Specimen measures 2.4cm x 1.8cm x 1.67cm - $125 SOLD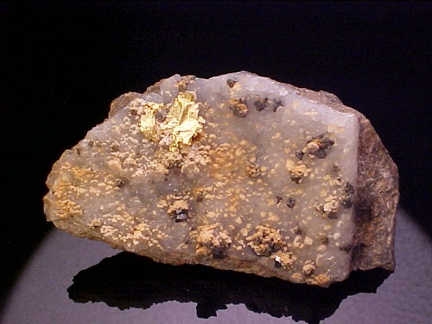 A stunning Native Gold specimen with Quartz from Fata Baii (Facebánya), Zlatna (Zalatna; Zalathna), Alba Co., Romania; Ex. Lazard Cahn. While we acquired this specimen prior to Springfield, it only made sense to add it in with these other gold specimens! A classic beauty!
Specimen measures 6.2cm x 3.4cm x 1.36cm - ON EBAY RIGHT NOW! (auction ending 9/17/09)
and some other beauties...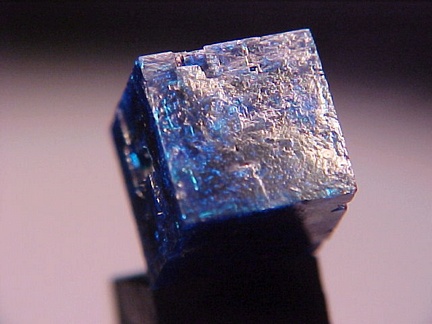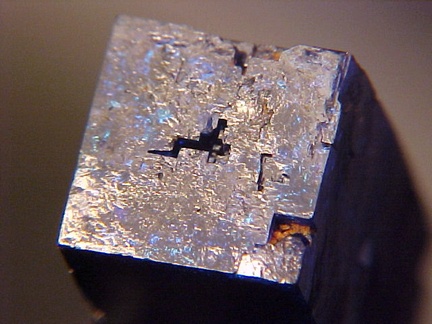 9mm! cube of Boleite from Santa Rosalía (El Boleó), Boleó District, Mun. de Mulegé, Baja California Sur, Mexico. Complete all around, razor-sharp with brilliant luster and fiery intense blue color. A superb boleite indeed! Ex. Ernie & Vera Schlichter Collection.
Specimen measures 9mm x 9mm x 9mm - ON EBAY RIGHT NOW! (auction ending 9/17/09)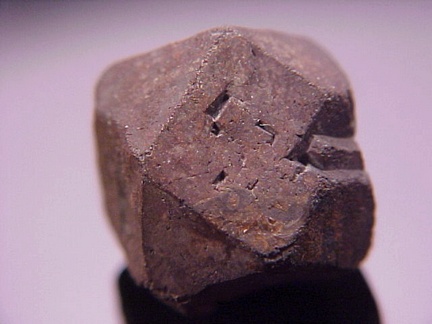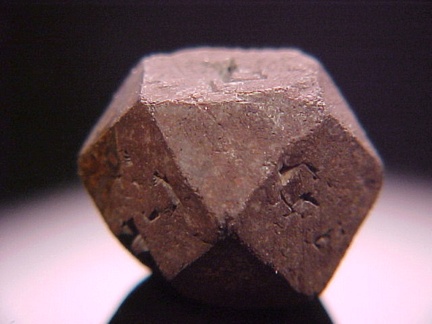 Hauerite from near Catania, Sicily, Italy. A large and choice old time example of this rare species! This is a HUGE crystal for the species, with a very unusual and rare modified habit! The crystal is very sharp and complete! Ex. Ernie & Vera Schlichter Collection.
Specimen measures 2cm x 1.75cm x 1.72cm - ON EBAY RIGHT NOW! (auction ending 9/24/09)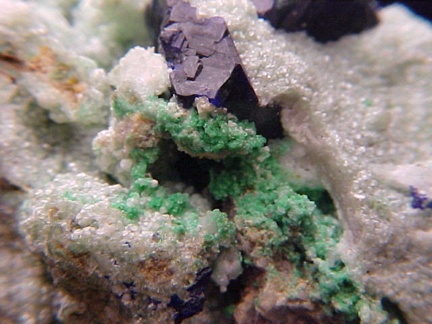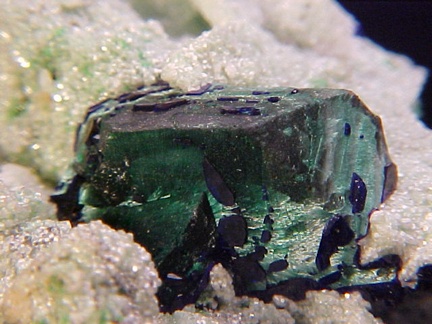 Azurite and Malachite on Cuprian Smithsonite with Tsumebite from Tsumeb, Namibia. This old time Tsumeb beauty hosts a sharp malachite pseudomorph after azurite with smaller azurite crystals in association perched on a matrix of light green cuprian smithsonite in association with rare bright green TSUMEBITE (much rarer than its arsenate analogue)! The tsumebite crystals are sharp and substantial!
Specimen retains old labels.
Specimen measures 4.6cm x 4.6cm x 3.1cm SOLD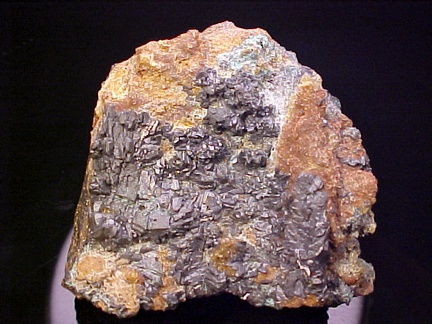 Chalcocite from the Groundhog Mine, near Silver City, Grant Co., New Mexico. A rare, old time example of chalcocite from this seldom referenced locale. This specimen hosts a face covered with sharp, complex chalcocite crystals in association with tiny blades of siderite. The pics hardly do it justice! SOLD
Stay tuned! More updates coming soon!
---
home | specimens | auctions | gallery | ordering | about | links
---